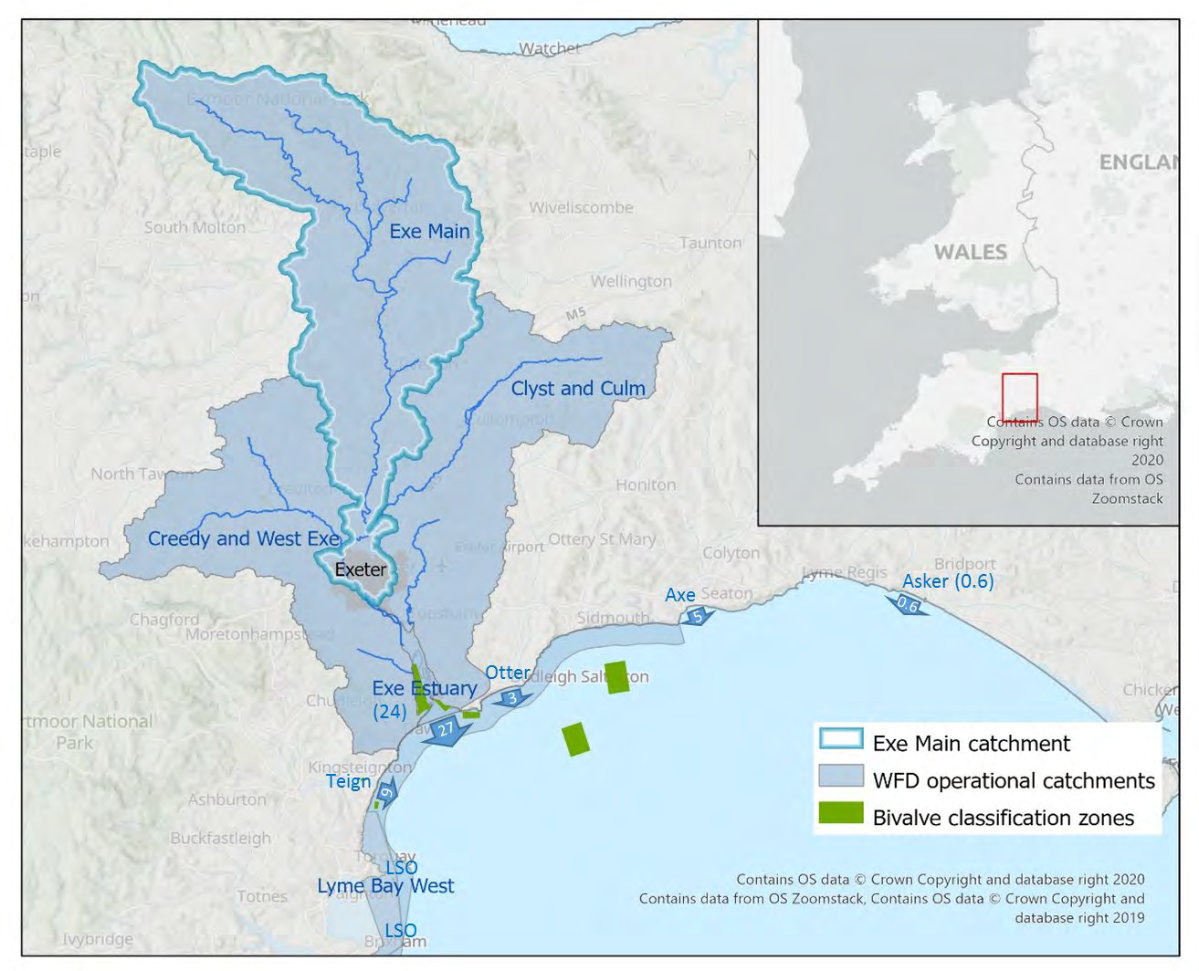 The River Exe rises in Exmoor and flows for nearly 83km south before meeting the Exe Estuary at Countess Weir. The estuary then goes on to drain into the English Channel at Exmouth. The Exe Estuary catchment refers to the area where water from different rivers and streams flows into the Exe Estuary.
The catchment spans a region of Devon and Somerset covering 1,520 square kilometres and is divided into three 'sub-catchment' areas: the Exe main, the Clyst & Culm, and the Creedy & West Exe.
The Exe Main catchment is predominantly rural and agricultural, with population centres in Exeter and Tiverton. The Creedy and West Exe catchment is mostly grass pasture, while the Clyst and Culm catchment has a higher proportion of pigs, poultry, and some light industry.
The catchment includes many nationally and internationally important wildlife sites including the Exmoor Heaths Special Area of Conservation and the East Devon and Blackdown Hills Areas of Outstanding Natural Beauty. Areas of the upper Exe catchment are also important spawning areas for Atlantic Salmon, a species of significant conservation concern within the UK.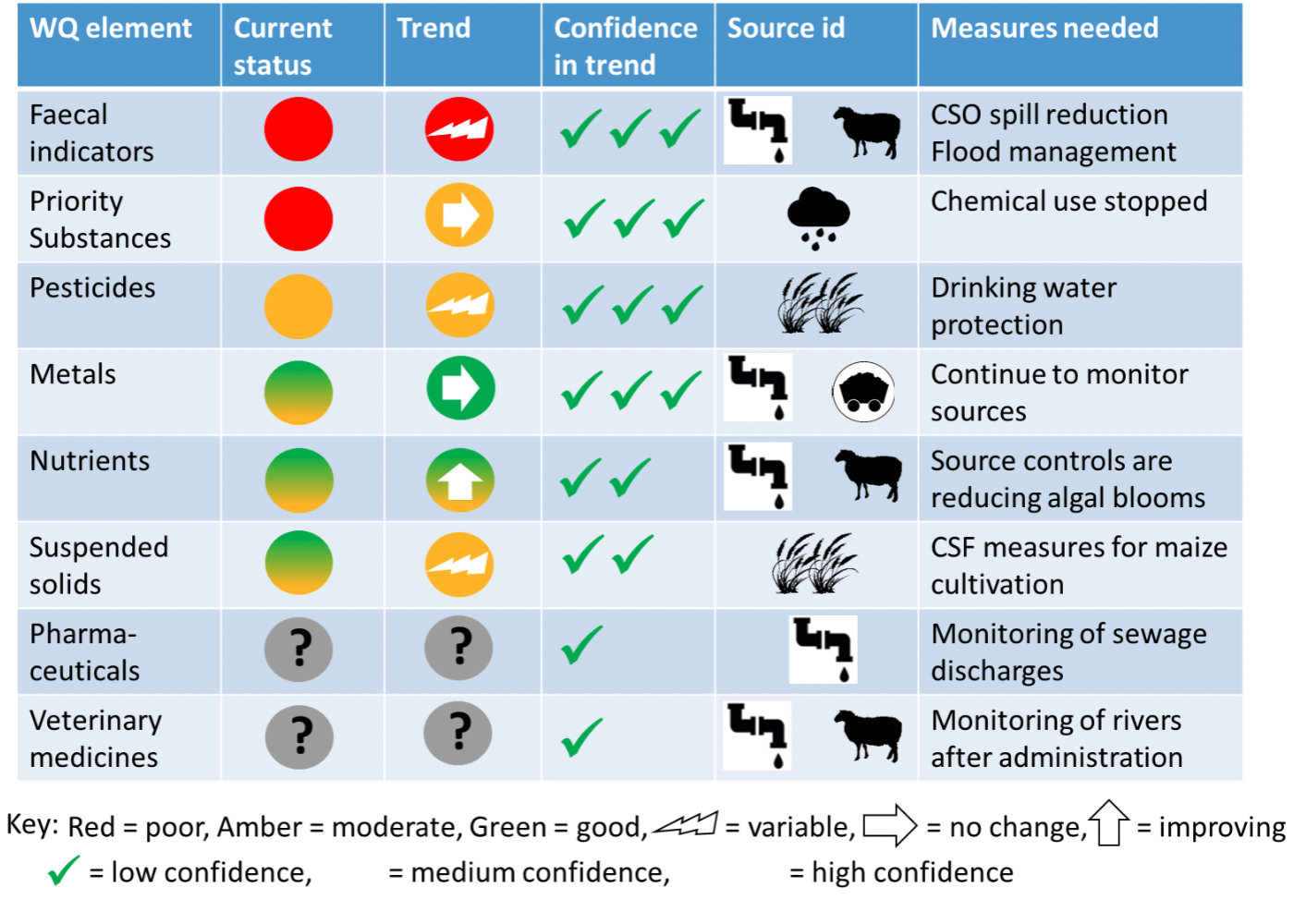 WQ – Water quality. CSOs – Combined Sewer Overflows. CSF – Catchment Sensitive Farming
Westcountry Rivers Trust said:
'Impacts are likely to be greatest for priority hazardous substances, including mercury and poly-brominated diphenyl ethers (PBDEs), which are currently responsible for the failure to achieve 'Good' ecological status under the Water Framework Directive. 

'Pesticides, particularly acid herbicides used to control broad-leaved weeds on arable land and grassland, are also frequently detected in water bodies throughout the nontidal catchment. Impacts on aquatic plants (macrophytes and algae) are mitigated to some extent by 'first flush' episodes during which short-lived spikes in herbicide concentrations occur in rivers following heavy rainfall events. 

'Faecal pollution, indicated by faecal indicators (E. coli and intestinal enterococci) is also associated with heavy rainfall, due to land runoff and sewer overflows. 

'Faecal indicators may not always reliably reflect concentrations of bacterial and viral pathogens that cause human illness, nevertheless the presence of raw sewage in rivers is not socially or environmentally acceptable and is currently one of the biggest environmental issues in the public eye. 

'Metal, nutrient 54 and suspended solids concentrations currently present no major causes for concern, although there are isolated hotspots in the West Exe and Creedy for nutrients and in the Culm for nutrients and suspended solids. Metal pollution from mine water in the upper Exe around Exmoor appears to be minimal. 

'Water quality status is uncertain with respect to human pharmaceuticals and veterinary medicines; more monitoring data are needed to assess the impacts of sewage discharges and inputs from farmyard steadings.' [Assessment of Water Quality status, drivers and impacts in the Exe Estuary Catchment and implications for ecosystem health and services including Shellfish Aquaculture]
Animal waste in the Exe
Environment Agency (EA) research found agricultural run-off upstream accounts for 46% of failures of the river and its tributaries to achieve 'Good' ecological status under the Water Framework Directive (WFD) assessment. That's the legal responsibility local authorities have to sustainably protect groundwater, inland and coastal water quality.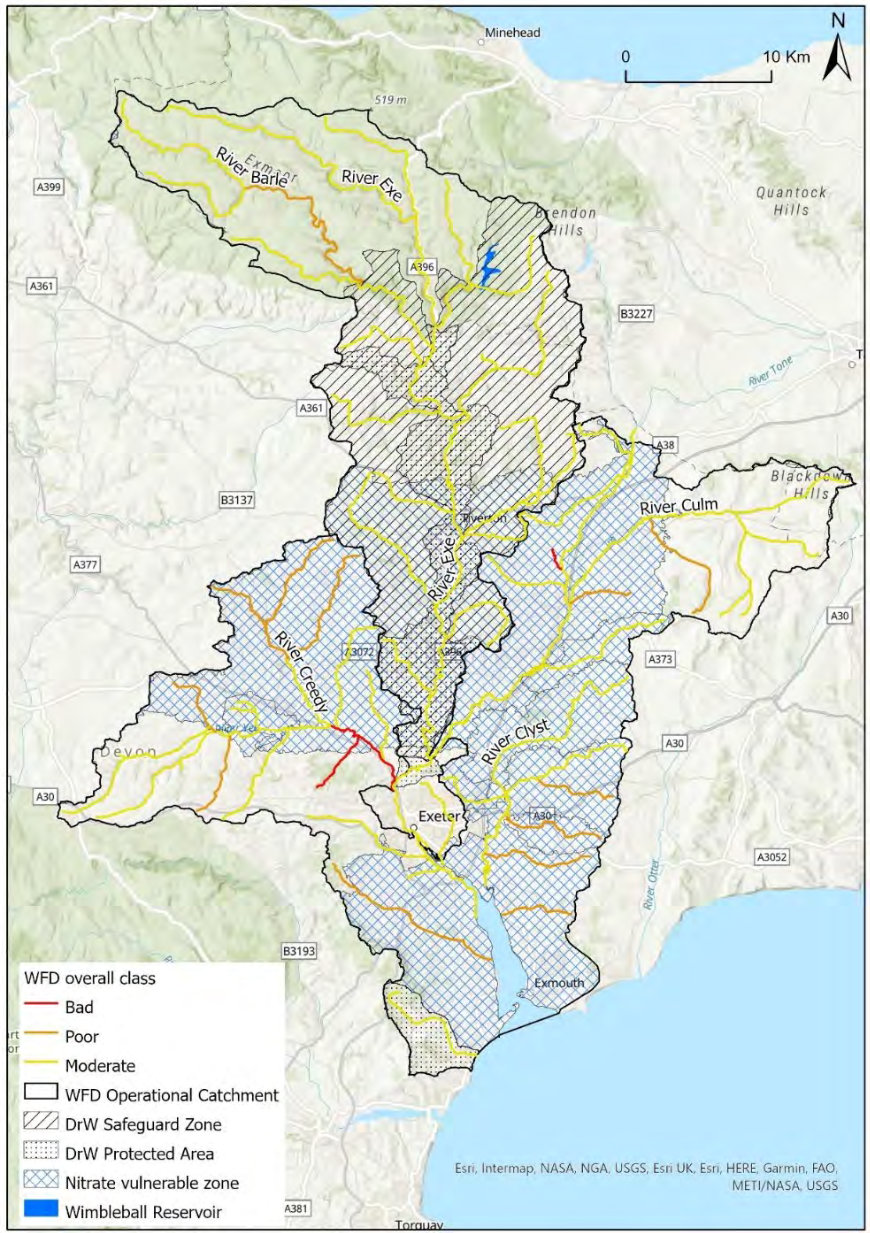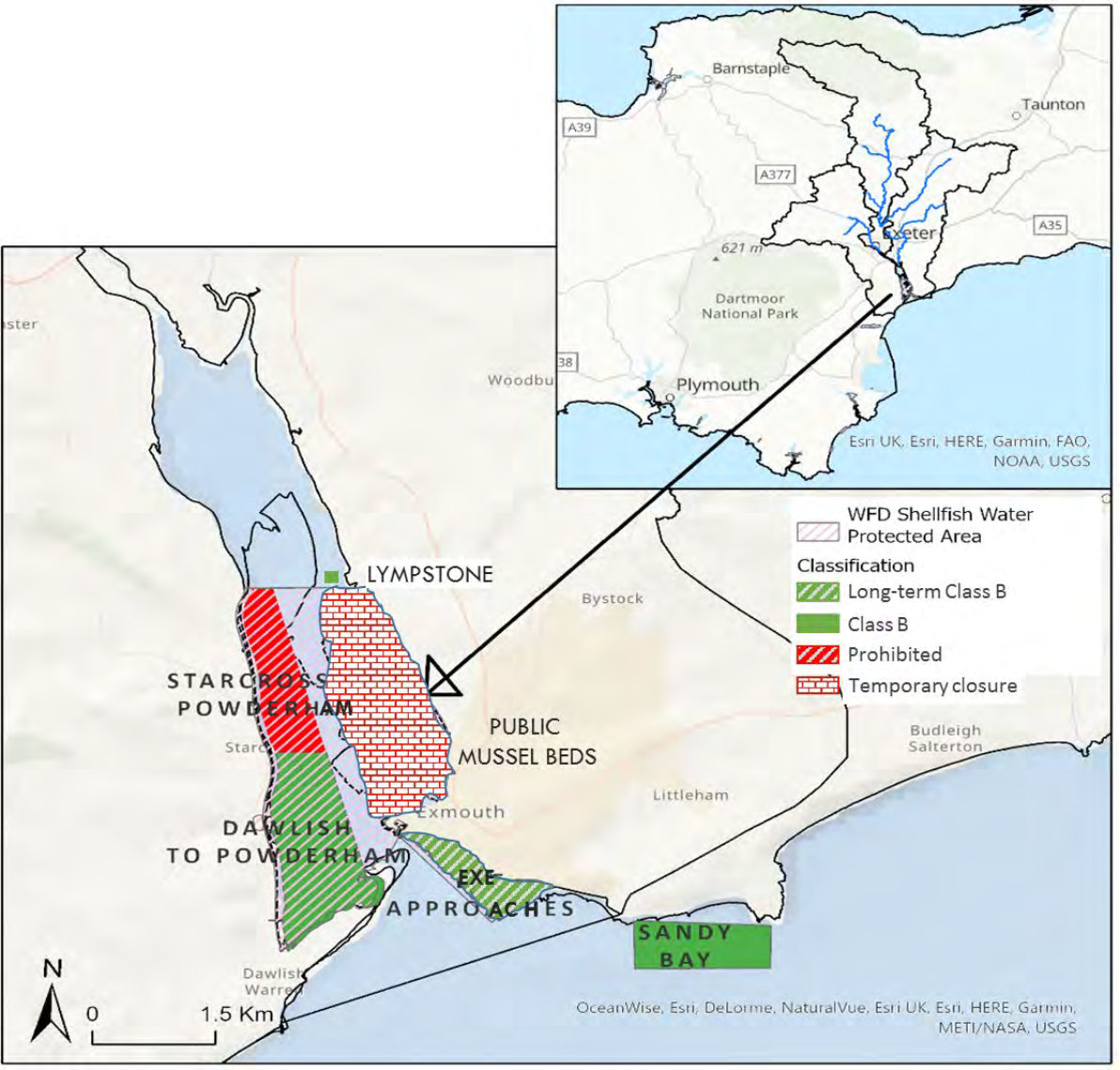 Most of it's from sheep poo. Westcountry Rivers Trust's handy pie charts show E-coli in the Exe Estuary catchment is 68% sheep, 9.7% poultry, 9.1% humans, 8.4% cattle, 5% pig.

Sewage in the Exe
Wondering about sewage? 
There were 82 treated continuous sewage discharges by South West Water within the Exe Estuary catchment and Exe Estuary in 2022, and 251 consented intermittent discharges. 
These are Combined Sewer Overflows (CSOs), Storm Tank Overflows (STOs), Sanitary Sewer Overflows (SSOs) and pumping station emergency overflows. They can all result in the release of untreated sewage into surface waters (SWEEP Water Quality and Aquaculture report, 2022). 
There are likely to be many more locations where misconnections, cross connections or collapsed sewer networks result in future spills.
Floods are increasing sewer overflows and land run-off. Climate change is bringing increasingly wet winters to the UK (Kendon et al., 2021). For example February 2020 was the UK's wettest February since records began in 1862.
Raw sewage in our rivers - interactive map from The Rivers Trust
'Priority substances' are 20 chemicals that are toxic and slow to break down. They include heavy metals (like lead), products of fossil fuel combustion, and chemicals that have been historically used in paints and vanishes (amongst others).
They pose a risk of bioaccumulation (building in concentration to damaging levels through the foodchain). The EA therefore now monitor for these as part of their WFD assessment, and Wildlife and Countryside Link and The Rivers Trust analysis of this data in 2023 shows that there is a toxic chemical cocktail of 5 of these in the River Exe.